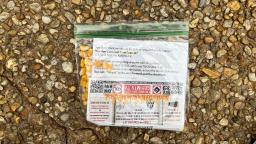 CNN
 — 

Police in suburban Atlanta are investigating after residents reported finding flyers with antisemitic imagery and messaging in their driveways.
They were found Sunday morning in Sandy Springs and Dunwoody, according to officials in both cities, home to many Jewish families.
On Twitter, Georgia Rep. Esther Panitch said on Twitter she received a flyer in her driveway.
"Welcome to being a Jew in Georgia-my driveway this morning. @SandySprings_PD came & took for testing. Govern yourselves accordingly, GDL and Anti-Semites who seek to harm/intimidate Jews in Georgia," Panitch's tweet said. "I'm coming for you with the weight of the State behind me."
According to Panitch, "many" Jewish families in Fulton and DeKalb counties received the flyers in their driveways.
In a statement on Facebook, Dunwoody Mayor Lynn Deutsch said residents "of many faiths" in at least three neighborhoods also woke up to find the flyers in their driveways.
Deutsch said the purpose of the flyers is to cause fear and division. She also said Dunwoody police are aware and investigating the incident.
"We are actively investigating this incident and working closely with the Sandy Springs Police Department, as their community was victimized as well," Dunwoody Police Chief Billy Grogan said in a statement. "If you have any information related to this case, please contact 911. There is no place for hate in Dunwoody."
"On behalf of the Dunwoody City Council, I want to assure everyone that hateful, divisive, and anti-Semitic rhetoric has no place here," Mayor Deutsch said in her statement. "Dunwoody is a community that values our diversity and is home to people of all faiths, races, ethnicities, and more. We live, work, serve and play together. At our Martin Luther King, Jr. Day of Service, Jews, Christians, and Muslims worked together planting daffodils in memory of those who perished in the Holocaust."
Georgia Gov. Brian Kemp tweeted the following statement:
"This kind of hate has no place in our state and the individuals responsible do not share Georgia's values. If needed, state law enforcement stands ready to assist Sandy Springs Police and Dunwoody Police in their investigations. We will always condemn acts of antisemitism."
The flyers found this weekend follow hundreds of antisemitic flyers that showed up in driveways and mailboxes in neighboring Cobb County in November, CNN affiliate WSBTV reported.
The language on the flyers mirror language seen in scrolling messages in Jacksonville, Florida, public spaces in October, as well as on banners hung from a freeway overpass in Los Angeles earlier that month by a group appearing to make Nazi salutes.