Hello Nature readers, would you like to get this Briefing in your inbox free every day? Sign up here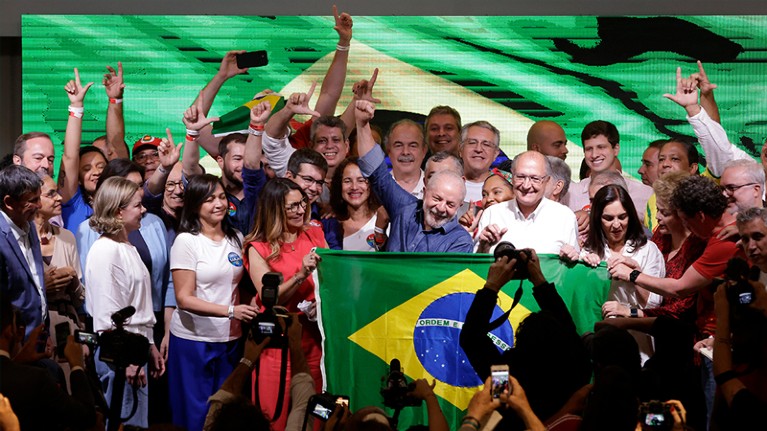 Many scientists breathed a sigh of relief on Sunday as Brazil narrowly elected Luiz Inácio Lula da Silva as president. "Today is a very hopeful day here in Brazil," says chemist Elisa Orth. "We voted for somebody who believes in science, who believes in education." Although Lula came out on top in the election, Bolsonaro's supporters prevailed in many of the congressional elections that took place on 2 October, which means the incoming president will face hurdles when implementing his agenda.
Some residents of Shanghai, China, are inhaling their COVID-19 boosters. The vaccine, produced by biotechnology firm CanSino Biologics, is a mist that is sucked through the mouthpiece of a sealed cup — in what might be the first roll-out of a needle-free COVID-19 vaccine. "It was like drinking a cup of milk tea," said one person in an online video posted by a state media outlet. "When I breathed it in, it tasted a bit sweet." Developers hope that vaccines that prime immune cells in the mucous membranes that live in the nose and mouth, where SARS-CoV-2 enters the body, will quickly stop the virus from spreading, preventing even mild cases and blocking transmission. More than 100 oral or nasal vaccines are in development globally.
Read more: How nasal-spray vaccines could change the pandemic (Nature | 10 min read, from September)
A study of 5.6 million papers finds that early-career biomedical scientists are more innovative and creative than their more senior peers. Researchers looked at authors' academic positions, whether a paper cited fresh findings from a wide range of fields and how many times the paper was cited by others. The evidence is particularly salient because biomedicine relies heavily on grant funding, where older, established scientists tend to have the edge, says economist and study coauthor Gerald Marschke.
Reference: Journal of Human Resources paper
Features & opinion
Africa doesn't have one single path to low-carbon development: each country has different starting points and uncertainties when it comes to using renewables or fossil fuels. For example, Ethiopia is headed for an accelerated green-growth pathway, but Mozambique is at a crossroads of natural-gas expansion. An interdisciplinary group of authors, most of whom are African, outlines how to identify the ways forward for specific countries on the continent.
From shoals of fish-bots to cheetah-inspired robo-runners, engineers are looking to nature for ideas on how to make robots move through the world. And the inspiration goes both ways: designs that make drones fly in a more energy-efficient way might help to explain how birds and insects have evolved to do something similar, for example. Don't miss the video of an adorable soft-legged turtle-bot in this delightfully illustrated feature.
Nature Outlook: Robotics and artificial intelligence is an editorially independent supplement produced with the financial support of FII Institute.
Where I work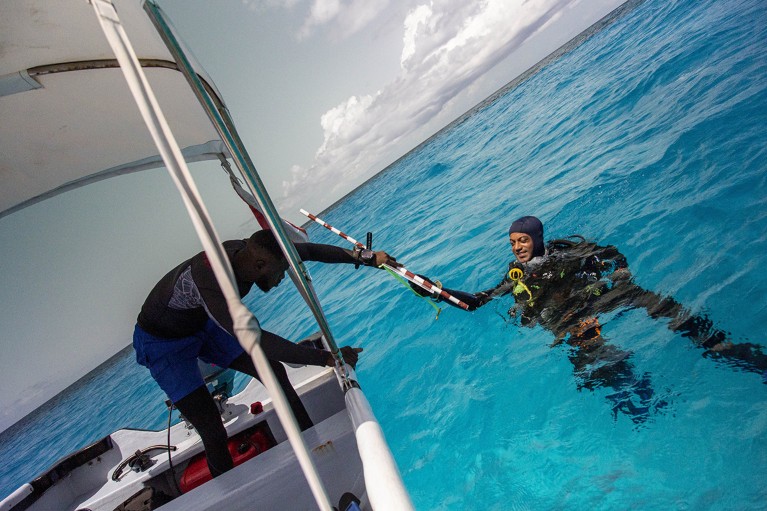 Surveys taken every five years reveal how the coral reefs around Barbados are changing, says ecologist Henri Vallès. "Barbados no longer has populations of large fish, such as groupers and snappers, because of overfishing," he says. "And numbers of sponges and algae, which can damage corals when too abundant, have gradually increased in the deeper reefs." Still, there are positive signs. "The populations of parrotfish, Barbados's most important species ecologically and economically, have seemed stable for the past decade…. [and] Staghorn corals (Acropora cervicornis), which nearly went extinct here in the 1970s, are making a slow comeback." (Nature | 3 min read)