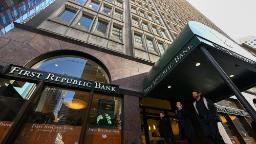 This month's banking meltdown was catalyzed in part by plunges in tech profits and cryptocurrency values. But in a strange twist, those two sectors also stand to gain the most from it. 
The tech sector suffered a disappointing 2022: The tech-heavy Nasdaq ended the year down nearly 30% as inflation soared, the Federal Reserve raised interest rates and the pandemic-era tech services boom dried up. Cryptocurrencies didn't fare well, either, with bitcoin losing about 60% of its value in 2022.  
So why are those two factors at least partially responsible for the current banking chaos?Because Silicon Valley Bank and Signature Bank had a highly concentrated customer base in those sectors.
And as interest rates continued to chip away at crypto profits and undercut the value of tech stocks, it became tough for the industry to raise funds. So companies began to draw down their deposits at the already-beleaguered banks, causing a liquidity crisis and their subsequent collapses. 
Yet, ironically, the banking mess is now helping tech companies and cryptocurrencies as investors flock out of the banking system in search of alternative safe spaces to store their cash. 
Bitcoin jumped to a 9-month high this past weekend as investors sought out alternative assets. The digital currency gained around 3% over the last 24-hours alone and is now trading at nearly $28,000 per coin – significantly higher than its November low of $15,480. 
The Nasdaq, meanwhile, is up nearly 11% so far this year. 
Generalist investors that were "hiding out in financial stocks and the overall banking sector are now seeing a much more white knuckle environment not knowing what news will come out on a Sunday night and which bank is under distress," wrote Wedbush analysts in a note Monday. 
There are more positive signs for Big Tech ahead, wrote the analysts. Companies have been rigorously enacting cost-cutting measures, their fundamentals are stabilizing, and the Fed could be nearing the end of its aggressive hiking regimen. 
"While it sounds like Twilight Zone comment to many investors; tech stocks have become the new safety trade with Big Tech leading the way," they wrote.