CNN
 — 

Byron Jones, who was selected in the first round of the 2015 NFL Draft by the Dallas Cowboys, tweeted Saturday that injuries sustained playing football have left him unable to run or jump, and he advised other players to be wary of the pills and injections doled out by team doctors.
"Much has changed in 8 years. Today I can't run or jump because of my injuries sustained playing this game," Jones tweeted.
"DO NOT take the pills they give you. DO NOT take the injections they give you. If you absolutely must, consult an outside doctor to learn the long-term implications."
Representatives for the cornerback have not responded to CNN's request for more clarity on his statements.
The 30-year-old former Pro Bowler has played for the Cowboys and Miami Dolphins in his 8-year NFL career. Jones spent the 2022 season on the physically unable to perform list as a member of the Dolphins.
CNN has reached out to the Cowboys and Dolphins as well as the NFL for response to Jones' statement.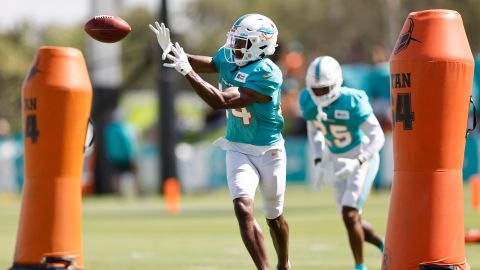 "It was an honor and privilege to play in the NFL but it came at a regrettable cost I did not foresee," Jones tweeted after his initial post. "In my opinion, no amount of professional success or financial gain is worth avoidable chronic pain and disabilities.
"Godspeed to the draft class of 2023."
It's unclear whether Jones, who is still on the Dolphins' roster, intends to retire from the NFL.