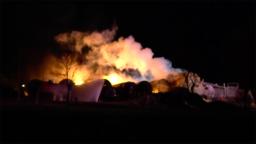 CNN
 — 

A train hauling ethanol derailed Thursday morning in Raymond, Minnesota, igniting several rail cars and forcing nearby residents to evacuate, officials said.
The derailment happened around 1 a.m., the Raymond Fire Department posted on Facebook.
The train was carrying mixed freight, including ethanol and corn syrup, said Lena Kent, general director of public affairs for BNSF Railway.
Ethanol is a highly flammable chemical. Exposure can lead to coughing, dizziness, the feeling of burning eyes, drowsiness and unconsciousness.
Homes within a half-mile of the derailment were evacuated, the Kandiyohi County Sheriff's Office said.
There were no injuries immediately reported, and railroad personnel will work the first responders, Kent said.
The main track is blocked, and an estimated time for reopening the line was not available.
The cause of the derailment is under investigation.
The Minnesota Department of Transportation has closed a nearby highway due to the derailment and blaze, the fire department said.
The derailment happened nearly two months after another train carrying hazardous chemicals derailed in East Palestine, Ohio – igniting a dayslong inferno, spewing poisonous fumes into the air and killing thousands of fish.
This is a developing story and will be updated.