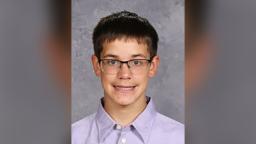 CNN
 — 

Law enforcement officials are desperately searching for an Indiana teenager who was last seen on Thursday and "is believed to be in extreme danger," according to a missing person alert.
Scottie Dean Morris, 14, was last seen in the small town of Eaton, which is 76 miles northeast of Indianapolis, Thursday night at 8:30 p.m., according to a missing person's alert from the Indiana Clearinghouse for Information on Missing Children and Missing Endangered Adults.
Eaton Indiana Police Department issued a Silver Alert for Morris on Friday but had already been searching for the missing teen since Thursday night. "He is believed to be in extreme danger and may require medical assistance," the Silver Alert notice reads.
Indiana's Department of Natural Resources deployed two boats to search for Morris in a nearby river. In addition, the police department utilized two infrared drones to search for Morris from the skies and Grant County has sent two bloodhound teams to look for Morris on the ground, according to a police Facebook post.
More than 100 volunteers worked with Eaton Police on Friday in the search for the teen.
"There has been a tremendous outpouring of support from the community, and we thank each and every one of you that have volunteered during this time!" police said in a Facebook post.
Police have made several direct pleas to Morris on their Facebook page asking the teen to reach out if he sees the social media posts.
"Scottie, if you see this, please know we are doing everything we can do to get whatever help you may need & to make sure you are safe and warm," the police agency posted Saturday. "Your safety is our main priority."
Morris is described as having brown hair and blue eyes, and is 5' 4" tall, according to police. He was last seen wearing a white shirt and red and black shorts.