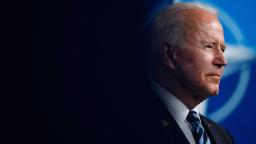 China on Tuesday slammed NATO's warning yesterday that Beijing posed "systemic challenges" to the alliance and the international order. 
NATO Secretary General Jens Stoltenberg warned on Monday that China "is coming closer to us" in military prowess and that Beijing doesn't share the Western values NATO was set up to defend.
China responded Tuesday by calling the NATO statement a "continuation of the Cold War mentality and clique politics psychology."
A spokesperson from the Chinese mission to the EU said in a statement that China had always been reasonable and transparent in terms of national defense policy, adding that accusing China of posing a "systemic challenge" was slanderous and misjudged.
"The number of nuclear weapons in China is not at the same level as that of NATO countries such as the United States," the spokesperson said, adding that the "number of nuclear warheads in NATO member states is nearly 20 times that of China."
"People all over the world can see clearly whose military bases are all over the world and whose aircraft carriers are showing off their military power," the spokesperson added.
In its joint statement Monday, the 30-member NATO alliance said it was "increasingly confronted by cyber, hybrid, and other asymmetric threats, including disinformation campaigns, and by the malicious use of ever-more sophisticated emerging and disruptive technologies. Rapid advances in the space domain are affecting our security. The proliferation of weapons of mass destruction and the erosion of the arms control architecture also undermine our collective security."
Chinese state media also published an editorial Tuesday, rebuking NATO's comments and urging member nations not to be "politically exploited by Washington." The Global Times editorial warned that "NATO is a military bloc, from which sending a confrontational message to China is naturally considered more severe than doing so through the G7."
The NATO communiqué comes off the back of the G7 summit, where Biden said he "walked away" from the meeting convinced that the group recognizes that China is part of a growing threat to global democracy.
While G7 leaders agreed to take steps to curb China's influence during the summit, Europeans are squeamish about getting dragged by the US into a showdown with Beijing.
US officials said earlier on Monday that Italy and Germany were uneasy with the NATO language.
Stressing "balance," German Chancellor Angela Merkel said that "China is our rival in many questions but also our partner in many aspects." French President Emmanuel Macron said the G7 wanted to work with Beijing on climate, trade, development and other issues despite disagreements, saying that the "G7 is not a club hostile to China."
During the summit, leaders agreed to set up an alternative to China's Belt and Road infrastructure initiative, called on China to respect human rights in Hong Kong and in the Xinjiang province, and to permit a full probe into the origins of Covid-19. It also called for calm in the South and East China seas.