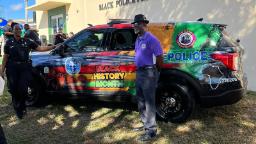 CNN
 — 

The Miami Police on Thursday unveiled a Black History Month-inspired vehicle wrap that features the pan-African colors, outlines of the African continent, raised fists and kente cloth.
"Miami Police Supports Black History Month," reads a message on the vehicle's back window.
The wrap and a Black History Month-inspired police badge were unveiled at the Black Precinct Courthouse and Museum in a ceremony attended by city officials, police officials and current and former Black officers. The event was to memorialize Miami's history of segregation and the efforts by Black officers and officials to push for integration, Mayor Francis Suarez said.
"Today we continue to take that a step further by doing this beautiful artistic rendering on our car and also the badge, which I think is incredibly important because we wear it on our chest. On our chest we will hold heavy that history, and we will display it proudly," he said.
The wrap was sponsored and paid for by the Miami Community Police Benevolent Association, which represents Black police officers, according to association officials. Local African American artist Anthony Lumpkin helped design the wrap, police said.
However, the wrap drew some criticism online from activists who said it was tone deaf and ignored the pressing issues facing the Black community, especially in the wake of the violent beating of Tyre Nichols by Memphis police.
"What WE really need is more police accountability, police reform now and stop killing Black people!!!!" the NAACP Miami-Dade Branch said in response to the vehicle wrap. "A better use of funds would be to make a deeper investment in implicit bias training and other police training that would aid in saving our lives."
Rodney W. Jacobs Jr., the executive director of the City of Miami Civilian Investigative Panel, a citizens police oversight group, said he believed the union's heart was in the right place but the wrap missed the mark.
"On the backdrop of it, when you have people asking for so much from police departments, especially Black and brown people, and you offer them, here's a police car with a wrap on it, that it's going to fall flat for most people," he told CNN affiliate WPLG's Christina Boomer Vazquez.
The online criticism was significant enough that Miami Police Chief Manuel Morales and two leaders with the association held a news conference Friday to defend themselves.
Sgt. Stanley Jean-Poix, the association's president, said the department previously used police cruisers to honor other causes, such as autism, breast cancer awareness, the military and Hispanic Heritage Month. He said union members asked him why the department hadn't created a Black History Month cruiser.
Lt. Ramon Carr, the association's vice president, said the wrap's inclusion of the African continent and the kente cloth was a source of pride for him and other officers.
"This was something for us to honor everyone. This had nothing to do with being disrespectful, being disgraceful. But this was something like a source of pride for us, and it still us," he said.
"Sometimes the timing of things that come out may not always be right, so we understand that, but it wasn't done disrespectful or untasteful to anyone," he added. "We just wanted to celebrate African American history in our police department, something that we're proud of."