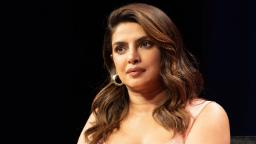 CNN
 — 

Priyanka Chopra Jonas says she left Bollywood behind to give Hollywood a shot because she felt like she was being "pushed into a corner in the industry."
On Monday's episode of the "Armchair Expert" podcast, Chopra Jonas said that she "had people not casting me" and that she "had beef with people" in Bollywood. She added that she had "never said this" before.
The "Matrix Resurrections" star had a thriving career as a Bollywood actor in India before she came to the US but admitted that, at the time, she was "tired of the politics."
"I just needed a break," she said.
That break from acting in India came when an opportunity to travel to America and work in the music industry was presented to her, which eventually led Chopra Jonas to sign a deal with Interscope Records as a singer in the early 2010s.
"When this music thing came I was like, you know what, 'f**k it.' I'm going to go to America," she said.
After working with artists like Pitbull and Will.i.Am, Chopra Jonas said she realized that she was better suited to being an actor. She began pursuing roles in Hollywood because she felt she was "having trouble back home anyway just being cast in the kind of movies that I wanted to be cast in."
After a serendipitous meeting with an ABC casting exec, Chopra Jonas found herself auditioning for the network's new spy show, "Quantico."
"I read the pilot so I knew what the tone of the show was and I worked with an acting coach," she said.
Chopra Jonas landed the role and starred in "Quantico" as FBI recruit Alex Parrish for the show's three seasons between 2015 and 2018.
"That one audition at that phase in my life really defined me," she said on Monday.
Chopra Jonas has continued a successful career in Hollywood, starring in major films such as "Baywatch," "The Matrix Resurrections," the upcoming romance movie "Love Again" and spy drama TV series "Citadel," out on April 28.