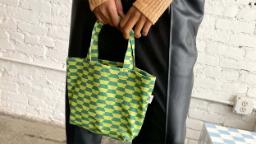 Even more danger lurks ahead for your shopping cart the next time you go into Target for "a toothbrush": The retailer has launched a colorful new collaboration with Stoney Clover Lane, and it has more than 120 different ways to add some pops of color to your spring after a gray winter. Basically, watch out for your wallet: Most items in the launch are under $20, making it extremely shoppable.
The collection, which ranges in price from $2 to $160, includes a full suite of things for your home, your closet, your beauty cabinet, and your on-the-go style for the spring getaways and summer vacations ahead. We have our eye on a lavender weekender sprinkled with patches, heart-embellished sling bags for spring adventures, and rainbow- and cherry-shaped inflatables for when the pools finally open. And if you have a couple of plain tees or tote bags you want to make your own, there are DIY tie-dye kits, patches, and stickers for easy DIY.
You can add things to your cart virtually online at Target.com or literally in person at any of the Target stores nationwide, whatever strikes your rainbow-shaded fancy. But take note, color-lovers: The collaboration is only available for a limited time (or until it sells out), so get shopping before it all sells out.