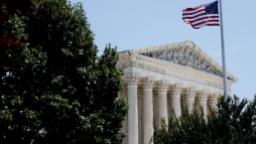 CNN
 — 

One day after Supreme Court justices debated whether Google and its subsidiary YouTube should be held liable for how its algorithm organizes ISIS content, the Court is set to take up questions of tech platforms' legal exposure for user content in a Twitter case.
On Wednesday, the Court will hear Twitter v. Taamneh, which will decide whether social media companies can be sued for aiding and abetting a specific act of international terrorism when the platforms have hosted user content that expresses general support for the group behind the violence without referring to the specific terrorist act in question.
The plaintiffs in the case — the family of Nawras Alassaf, who was killed in an ISIS attack in Istanbul in 2017 — have alleged that social media companies including Twitter had knowingly aided ISIS in violation of a US antiterrorism law by allowing some of the group's content to persist on their platforms despite policies intended to limit that type of content.
Twitter has said that just because ISIS happened to use the company's platform to promote itself does not constitute Twitter's "knowing" assistance to the terrorist group, and that in any case the company cannot be held liable under the antiterror law because the content at issue in the case was not specific to the attack that killed Alassaf. The Biden administration, in its brief, has agreed with that view.
The closely watched Twitter and Google cases carry significant stakes for the wider internet. An expansion of apps and websites' legal risk for hosting or promoting content could lead to major changes at sites including Facebook, Wikipedia and YouTube, to name a few.
At the heart of the legal battle is Section 230 of the Communications Decency Act, a nearly 30-year-old federal law that courts have repeatedly said provides broad protections to tech platforms but that has since come under scrutiny alongside growing criticism of Big Tech's content moderation decisions.
Twitter had previously argued that it was immune from the suit thanks to Section 230.
Other tech platforms such as Meta and Google have argued in the Twitter case that if the Court finds the tech companies cannot be sued under US antiterrorism law, at least under these circumstances, it would avoid a debate over Section 230 altogether in both cases, because the claims at issue would be tossed out.
On Tuesday, the Court heard oral arguments for a case known as Gonzalez v. Google, which zeroes in on whether the tech giant can be sued because of its subsidiary YouTube's algorithmic promotion of terrorist videos on its platform.
According to the plaintiffs in the case — the family of Nohemi Gonzalez, who was killed in a 2015 ISIS attack in Paris — YouTube's targeted recommendations violated a US antiterrorism law by helping to radicalize viewers and promote ISIS's worldview. The allegation seeks to carve out content recommendations so that they do not receive protections under Section 230
However, Supreme Court justices appeared broadly concerned Tuesday about the potential unintended consequences of allowing websites to be sued for their automatic recommendations of user content. A big concern of the justices seems to be the waves of lawsuits that could happen if the court rules against Google.
"Lawsuits will be nonstop," Justice Brett Kavanaugh said at one point. Justice Elena Kagan echoed the concern: "You are creating a world of lawsuits."