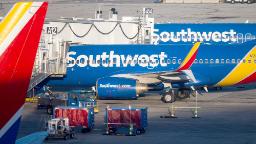 CNN
 — 

The US Transportation Department said it is in the early stages of an investigation into the Southwest Airlines holiday travel meltdown in December.
The probe includes an examination of whether Southwest is scheduling more flights than it can handle.
"DOT is in the initial phase of a rigorous and comprehensive investigation into Southwest Airlines' holiday debacle that stranded millions," a spokesperson for the department said.
The airline, America's largest domestic carrier, canceled more than 16,700 flights between December 21 and 29. Southwest estimates the cost of those cancellations will be somewhere between $725 million and $825 miilion. A bit more than half the cost — between $400 million and $425 million — will come from lost ticket revenue that will be refunded to customers.
Much of the rest is for compensation to the customers for purchasing flights on other airlines, and for a bonus 25,000 points in its frequent flier program. Various Southwest employees will also receive additional "gratitude" pay for working through the meltdown.
"DOT has made clear to Southwest that it must provide timely refunds and reimbursements and will hold Southwest accountable if it fails to do so. DOT is also probing whether Southwest executives engaged in unrealistic scheduling of flights which under federal law is considered an unfair and deceptive practice. DOT will leverage the full extent of its investigative and enforcement power to ensure consumers are protected and this process will continue to evolve as the Department learns more," the spokesperson said.
Southwest said it is cooperating with the investigation.
"Our holiday flight schedule was thoughtfully designed and offered to our customers with the backing of a solid plan to operate it, and with ample staffing," said the airline's statement. "Our systems and processes became stressed while working to recover from multiple days of flight cancelations across 50 airports in the wake of an unprecedented storm. We're acutely focused on learning from this event, mitigating the risk of a repeat occurrence, and delivering the hospitality and outstanding service our customers expect from us."
Transportation Secretary Pete Buttigieg previously said the department "will use the fullest extent of its investigative and enforcement powers" if the airline does not follow through on reimbursing travelers for their extra expenses.
– CNN's Chris Isidore contributed to this report