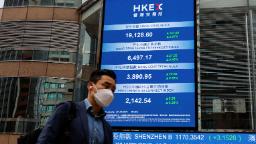 Hong Kong
CNN
 — 

Stocks in the Asia Pacific region rose Tuesday as concerns about the global banking sector eased in response to a whirlwind of intervention by policymakers and industry players.
The S&P/ASX 200 in Australia jumped 1.3%, boosted by its AXFJ index, a measure of banking stocks, which surged 1.7%.
In Hong Kong, the Hang Seng Index

(HSI) opened up 0.8%. China's Shanghai Composite was 0.3% higher at the start of its trading session.
South Korea's Kospi ticked up 0.8%. Japanese markets were closed for a public holiday. Singapore's Straits Times Index gained 1.1%.
US stock futures were flat in Asian trade Tuesday, with Dow futures, S&P 500 futures and Nasdaq futures little changed.
That followed a sunnier day on Wall Street, as investors became more confident in the outlook for the general banking sector, sending shares up.
On Monday, central banks across Asia Pacific moved to quell concerns about the finance industry, with authorities in Australia, Hong Kong, Singapore and the Philippines assuring the public that their money was safe following the emergency bailout of Credit Suisse over the weekend.
That did little to stop stocks from slumping initially, though analysts had predicted global markets could see calm later on Monday as investor nerves settled and relief set in. The landmark rescue of Credit Suisse

(CS) by bigger Swiss rival UBS

(UBS) on Sunday was followed by a coordinated move by major central banks to boost the flow of US dollars through financial markets.
Shares of UBS rose about 3.3% in an intraday reversal on Monday, following a drop of as much as 15% earlier in the session.
Still, recession fears continue to dog investors ahead of the US Federal Reserve's meeting, which is set to conclude Wednesday. Traders see about a 73% probability of the central bank raising interest rates by 25 basis points.
US regional banks also aren't out of the woods yet. Shares of First Republic

(FRC), the struggling California bank bailed out by a consortium of banks last week, fell to an intraday record low Monday before ending the session down about 47% in another day of steep losses for the company.
The Dow

(INDU) closed 1.2% higher, while the S&P 500

(SPX) gained about 0.9%. The Nasdaq Composite

(COMP) climbed 0.4%.
— CNN's Krystal Hur contributed to this report.