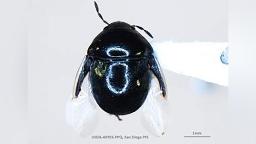 CNN
 — 

For the first time ever, a "corimelaena palmeri" insect has been documented in the US after hitching a ride in a shipment of fresh cut flowers, according to Customs officials.
The bug was discovered in October among a shipment of fresh cut flowers in a tractor-trailer at the Otay Mesa Cargo Facility, according to a Wednesday news release from US Customs and Border Protection. The facility processes shipments coming from Mexico into San Diego.
A Customs officer referred the driver and shipment to "an intensive agriculture inspection," says the news release. That's when the office's agricultural specialists discovered an "unusual insect" within the flowers. From there, Customs submitted the bug to the United States Department of Agriculture Plant Protection and Quarantine Identifiers, which sent it to a lab for further identification.
The shipment and driver were returned to Mexico, the release said.
It wasn't until late January when the bug was identified as "corimelaena palmeri," according to the release. On January 25, the lab made the final identification, marking the discovery as "a first-time interception of this pest in the nation."
"Discovering a first-in-nation pest at one of our ports of entry is an extraordinary achievement," Sidney Aki, Customs and Border Protection's director of field operations in San Diego, said in the release. "Each year, CBP Agriculture Specialists intercept tens of thousands of pests, this accomplishment is a reflection of their immense hard work and dedication."