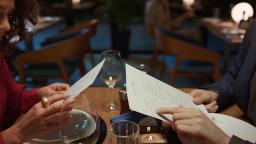 New York
CNN
 — 

Singles are ditching pricey white tablecloth meals for romance in the park or on a walk instead.
The high cost of dining out and changes to dating habits during the pandemic have driven singles to seek out more affordable, casual first dates.
Singles are spending $130 a month on dates, up 40% from the past decade, according to an annual survey of 5,000 singles funded by Match

(MTCH), the owner of Tinder, Hinge and Plenty of Fish.
Eighty-four percent of singles say they now prefer a casual first date, according to the survey. Thirty percent say they are now more open to doing free activities, while 29% want to go on dates closer to home to save on gas. Home-cooked meals, coffee or drinks and other low-cost dates are also becoming more appealing.
"Singles, more than ever, are open to free dates," Rachel DeAlto, Match's chief dating expert, said in an interview. "They are mindful of the time, energy and money that they're spending on those initial encounters."
Nearly half of single Millennials and Gen Z have suggested going on a less expensive, more budget-friendly date, according to a Plenty of Fish survey of more than 8,000 users. The app called this trend "infla-dating" – going on less expensive dates due to higher prices.
Covid-19 restrictions also changed dating habits.
People learned to embrace free dates and outdoor encounters like walks or picnics in 2020.
"The parks became the hot date spot," DeAlto said. "This was a great way to meet people without the extra money and time."
Video first dates also became more popular during the pandemic, a trend that has stuck around. People are still using video calls to vet potential candidates to ensure they are worth the time and money in person.
Prior to the pandemic, around 8% of people were open to a video date before meeting in person, according to Match. That number has jumped to 37%.
Match, Bumble and other dating companies have seen consumers make changes on their apps as inflation and the uncertain state of the US economy take a toll on their finances.
People are still signing up for paid subscriptions, but they are not buying as many profile boosters on the apps and other one-time purchases to try to get more "likes," say the companies and analysts.
"Our younger users are more susceptible. If you have your first job out of school and you're reading a lot about layoffs, you tend to get a little more nervous," Match chief operating officer Gary Swidler said at a conference earlier this month. "Less affluent people are being more careful."
People still want to date, he said, but they are making adjustments.
"I don't think that we'll see people fully pull back on dating, but they might kind of nip and tuck here and there."
Kristin Moss, 28, who works at online charity connecter DealAid, said inflation has "made me more picky in terms of where and who I would go on dates with."
She always checks menu prices before going on dates now and doesn't frequent bars as often because "$15 to $20 per drink can add up quickly."
When gas prices spiked this summer, she didn't want to drive more than 20 minutes from her home on a first date.
"Location and cost of first dates matter more now than they have in the last few years," she said. "Why should I spend extra time and money just to go on a date that might end poorly?"